Close the Distance and Capture Decisive Crucial Moments with the Stellar NIKKOR Z 400mm f/2.8 TC VR S
Experience exceptional performance of the first NIKKOR Z super-telephoto lens that is equipped with a built-in teleconverter and the latest technologies
Sydney, Australia - Nikon Australia presents the brand new NIKKOR Z 400mm f/2.8 TC VR S, a fast-super-telephoto lens with a built-in 1.4x teleconverter that allows users to expand their reach seamlessly by switching between two focal lengths of 400mm and 560mm. Fast and accurate as well as durable, lightweight and compact, this 'two-in-one' lens allows photographers to easily capture fast-moving objects while on the go.
Combining cutting-edge technology with excellent optical performance, the lens is an example of the superior NIKKOR Z S-Line range, designed to surpass industry standards and redefine optical perfection. Whether users are photographing subjects in adrenaline-pumping sporting events or unpredictable wilderness, photographers can rely on the NIKKOR Z 400mm f/2.8 TC VR S to capture a variety of scenes accurately from afar and during challenging shooting conditions.
"Photographers can enjoy two focal lengths with just one prime lens while maintaining exceptional rendering performance. The NIKKOR Z 400mm f/2.8 TC VR S is equipped with state-of-the-art technology that allows better autofocus (AF) and anti-reflection performance as well as durability. This allows users to photograph with greater ease and accuracy while avoiding lens flares and ghost effects. An ideal combination of technological advancement and convenience, the lens is perfect for photographers who wish to have a super-telephoto lens equipped with a large aperture. The NIKKOR Z 400 f/2.8 TC VR S shows our commitment to developing the right products for community," said John Young, General Manager, Marketing for Nikon Asia.
NIKKOR Z 400mm f/2.8 TC VR S Primary Features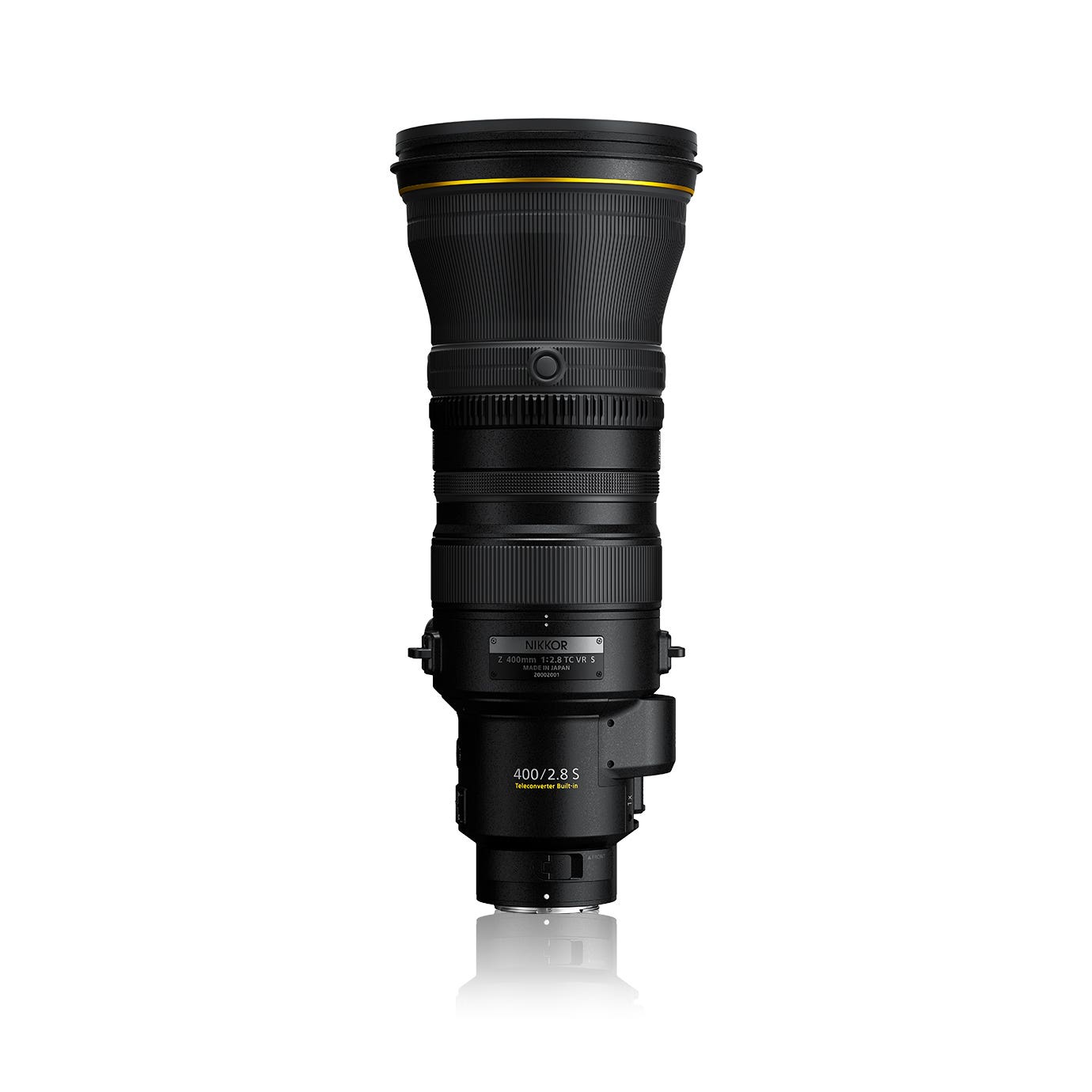 Enhanced Optical Performance with New Technologies
A first for the NIKKOR Z lenses, the AF mechanism developed by Nikon comprises an optical ABS (absolute) encoder that detects the amount of changes in the movement and speed of the focus lens group with approximately 20x greater precision, as well as a Silky Swift VCM (Voice Coil Motor) [1] that achieves higher speed and accuracy along with near-silent operation simultaneously. This enhanced AF performance allows users to be in complete control and focus when shooting at high speed, delivering crisp, sharp images and videos without noise and vibration. With an in-lens Vibration Reduction (VR) of up to 5.5-stops [2], the lens is also able to effectively counter camera shakes even while shooting at a 560mm focal length.
Adopting a new top multilayer coating on top of the ARNEO Coat, the latest Meso Amorphous Coat delivers the highest anti-reflection performance in NIKKOR history, being effective in light diffraction to powerfully suppress flaring and ghosting effects despite harsh lighting conditions.
Uninterrupted shooting and high resolution with dual focal lengths
Images captured with a pre-production NIKKOR Z 400mm f/2.8 TC VR S
Alternating between two angles can now be done hassle-free with just one super-telephoto prime lens, enhancing the shooting experience as it enables users to focus solely on their subjects and capture beautiful images. With its built-in 1.4x teleconverter, the lens covers two focal lengths of 400mm and 560mm, letting users shoot even further while delivering excellent image quality. For ease of use, the teleconverter switch is optimally located within reach on the side of the lens; users can toggle back and forth between focal lengths as they maintain their position, posture and grip.
Achieve consistent high resolution in your imagery with the NIKKOR Z 400mm f/2.8 TC VR S and its excellent resolving and rendering capabilities, even at the edges of the frame, with the combination of the Extra-low Dispersion (ED), super ED glass, fluorite lens, and the Short-wavelength Refractive (SR) lens elements that effectively minimises chromatic aberration. In addition, the bright, maximum aperture of f/2.8 supports users when it comes to shooting in low light situations, effectively minimising blur and delivering beautiful, natural bokeh for three-dimension expression.
Functionality at the finest with its stable and smooth operation
The NIKKOR Z 400mm f/2.8 TC VR S is easy to shoot with, as the innovative design has made it smaller and lighter to hold. The NIKKOR Z 400mm f/2.8 TC VR S is highly portable for a super-telephoto lens, weighing approximately 2,950g. Photographers can enjoy more stable operation when it comes to handheld shooting or panning on a monopod as the lens' centre of gravity is located in the middle of its tripod collar, providing optimal weight balance.
For greater operability, its buttons and rings are also strategically placed within reach and customisable to address the professional demands. This allows users to amend the lens' functions to better suit their preferences; such controls include the Fn ring, control ring, lens Fn buttons (1/2) and memory set button for usage of the memory recall function [3]. The NIKKOR Z 400mm f/2.8 TC VR S is the first NIKKOR Z lens to adapt the memory recall function [3], that lets you store and return to a pre-set focus position that you frequently use. Completing the elegance of its bold design is a metal plate for its model name and the familiar Nikon yellow ring to complement the NIKKOR and S metal emblems.
Under various conditions, superior dust-and-drip resistance [4] is ensured with a fluorine coat on the front-most surface of the lens to prevent contamination, and effective sealing on various parts of the lens with a rubber gasket around the lens mount. For a peace of mind, the lens also incorporates a security slot that is compatible with many security wires in the market.
Availability
For more information on the new NIKKOR Z 400mm f/2.8 TC VR S, please visit https://www.nikon.com.au/nikkor-z-400mm-f2-8-tc-vr-s.
[1] WARNING: Do not use this product if you have a pacemaker or other medical device. The magnet or magnets in this product could cause medical devices to malfunction.
[2] In [NORMAL] mode. This value is achieved when attached to a mirrorless camera equipped with 35mm film size image sensor.
[3] Firmware for the cameras must be updated to the latest available versions before use.
[4] The lens is not guaranteed to be dust- and drip-resistant in all situations or under all conditions