For Josh Beames, landscape photography is a joyous balance between expertise and experimentation.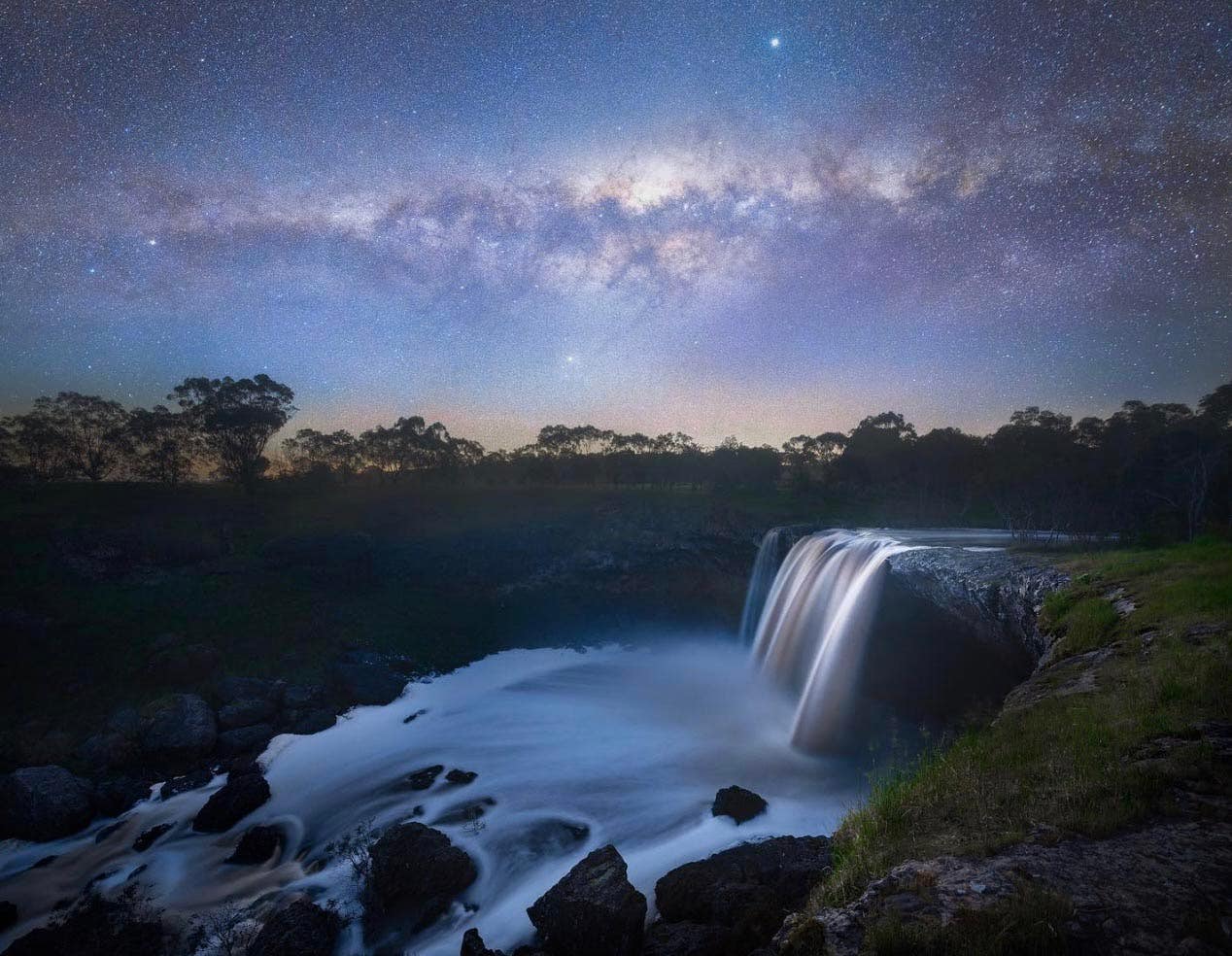 Since 2012, Josh Beames has followed where his curious eyes take him — from the diverse ecosystems of his coastal home in Warrnambool, Victoria, to the swelter of Uluru, and to frost of the Icelandic wilderness. Since a young tyke on a bike, exploring past the point of familiarity has been in his blood, so it's no surprise that as an adult, he gravitates towards searching for the perfect landscape, both near and afar.

As a proud Nikon School lecturer and Creator, Josh imparts his signature take on our living world to students and budding photographers of all ages. His most recent teaching endeavour takes place at Wildlife Wonders, a new, one-of-a-kind site founded by the Conservation Ecology Centre in the Otways, Victoria, that allows visitors to explore a carefully curated ecosystem that's unobstructed by human or animal predation.

We sat down with Josh to pick his nature-loving brain on life as a prominent landscape photographer, and we also brought in Lizzie Corke, CEO of the CEC, to tell us a bit more about Wildlife Wonders, her organisation's efforts, and conservation in general.

But first, to Mr Josh Beames.
What got you started in photography?
I started like most people probably do these days and that's with a mobile phone – just playing around with its camera. I live along the coast, so I was able to utilise the areas of my hometown of Warrnambool, and even with my phone camera, I started to get a knack for it.
We'd get storms, and I'd try to capture lightning with that phone. I actually managed to get one and put it on my Facebook. At the time, around 2012, you'd post on Facebook but you wouldn't get much interaction. But this shot had two lightning bolts striking down in the same shot and it went nuts. Everyone was like "you should get a camera", so after a bit of research and figuring out which way to go, I ended up investing in a Nikon D750, ordered online.
While that was on its way, I had a GoPro and you could do long exposure on it. So, I set it up at the Wollaston Bridge, a really cool bridge in Warrnambool, set to make use of the long exposure, but I had no idea of what I was actually trying to get, maybe a shot of the stars or whatever. And then I end up getting a shot of the Milky Way, hovering perfectly over the bridge.

In fact, I didn't really know what the Milky Way was or have much interest in that kind of thing. But then when I posted that on social media, it got like 1000 likes, which was a lot back in 2012. Off the back of that, the local newspaper contacted me to do a bit of a write-up.
Then, from as soon as that D750 arrived, I was addicted from then on. I wanted to learn everything about shooting with a proper DSLR. Over that time, I was familiarising myself with photography in general and browsed Instagram to see what other people were doing. I had this perspective that I wanted to capture at the time, which, looking back at it now, was mostly related to foregrounds. I had an existing wide-angle lens, but I ended up lashing out and buying a NIKKOR 14-24mm f/2.8 and that lens started my love of astro.
I was out there testing that lens and looked at the back of the camera and saw this purple glow and I was like "what's that?" I didn't realise it was the Aurora Australis [aka The Southern Lights], nor that we could actually capture it from down here. So, that really sparked something in me. That there must be so much going on up there that the average person doesn't know about because they can't see it. During that process, I was figuring out how to best use my camera. You know, like pushing the dynamic range and understanding what you can do with high-end cameras.

So, I guess all of that is what got me started down the rabbit hole of photography.
Can you tell us about the journey from that initial period of discovery to now, where you've become more established?
After that period, I began to develop a style that I really liked. I took a shot down at Teddys Lookout in Lorne of the Aurora Australis which made it into The Herald Sun, on like the third page, which is basically the second front page! That's when Nikon contacted me and asked if I wanted to come out to Sydney for an event so they could meet me.

I was like "what?!". I took another look at the message and I asked myself "is this legit?!". Because you know, I enjoyed taking photographs but I didn't think that a company would ever notice me. But still, I ended up flying out and meeting the guys at Nikon and they sent me a Nikon D850 before it was released, to use for a couple of weeks.

I saw this as my opportunity to show what I could do and what I was about. I flew out to Uluru for only A DAY. Flew out in the morning, shot all day, shot astro at night, slept in my car then flew back to Melbourne the next morning. I just thought I needed to go somewhere special and test out this camera properly.
Going out there for that short amount of time is indicative of a pretty strong passion?
Absolutely. I was at work, with a colleague and said "I've got two days left with this camera, I've gotta go somewhere", so I immediately jumped on the Jetstar website. It was like 400 bucks return and I was like "done". I managed to capture a good variety of photos and I showed them to Nikon, and they loved the Uluru shot. They'd also seen that I posted about the story of flying up there for 24 hours.

I think it was that trip and those photos that kind of put me on the path to where I am today. It's crazy how certain events bring you to unexpected places.
You've talked about astro, but you're most known as a landscape photographer. What attracted you to landscapes in general?
I've always been an explorer. When I was little, I was always convincing my parents for us to get out and go somewhere, even if it was just down to the shops. Then I got a bike and rode all over the place. And just living and being along the coast was a natural base that led me to landscape photography. I learned so many things about nature that I wouldn't otherwise have known about.

For example, about two years ago I learned about bioluminescence. I'd seen it on YouTube and wondered if it was really that bright. One morning I noticed on Facebook that there was some bioluminescence nearby in Lorne. That afternoon, I was out chasing a storm but didn't end up capturing anything of worth, so I messaged my partner, TJ, and we decided to go a bit outside of Lorne and try and find this bioluminescence I'd heard about. We came around this big bend, I saw a big wave and what looked like sparks flying off the top of it – really bright sparks. I was like "you are kidding me" and TJ popped out of the sunroof and screamed something I'm not sure I'm allowed to say. We pulled into the nearest beach access and sprinted out of the car. We couldn't believe it.

After about half an hour of watching the bioluminescent waves, off to the right we saw a couple of flashes. I realised that the storm I'd been chasing had made its way down along the coast, right in front of us. With the bioluminescent waves rolling in, I set up my camera and quickly had to work out the right exposure, so that I could capture the luminescence but not blow out the lightning.

The one shot in which I got the settings right has paved the way for so much in my career, in terms of jobs and getting noticed. It's a rare shot to get, capturing both those elements at the same time. All the moments of being a kid, exploring, riding my bike, fiddling with my phone camera and learning professional photography all led up to that one shot.

I still haven't seen a shot with those two elements in the same frame.
After taking such a unique photo, how did it open doors for you?
I posted it on social media and the reach was insane. I got a lot of followers out of it, but also a lot of jobs, such as tourism jobs out here. Those wanting to work with me usually reference that one shot.

There are so many photographers on social media and to produce something a little unique goes a long way in terms of getting noticed. So, the biggest door that opened for me was just getting my name out there.

Most of the work I get is content creation, much of the time for local tourism. That industry, as a whole, tend to go after photographers with millions of followers on social, so I was lucky to have captured that one shot without having that kind of following.
How does a sense of place, particularly the Great Ocean Road, play into your work?
My landscape work is particularly centred around mountains, waterfalls and coasts. All these things are either very close to me or only within an hour or so away. So, having access to locations that are a little bit different has allowed me to become known for shooting that kind of content. That's pretty much as simple as it gets – just being close to those areas.
You've recently transferred from DSLR to mirrorless, can you tell us a bit about that?
As I said, my first camera was the Nikon D750, then I had the Nikon D810, then even after testing it out at Uluru I ended up buying a Nikon D850 because that thing was incredible – anyone would tell you it's hard to upgrade from that camera because it's so great. There's basically nothing it can't do.

I did a job for Nikon where I shot for the brand Patagonia, and was sent out some mirrorless cameras and some lenses. I was experimenting with it all by shooting my partner TJ, she was being my model. I was looking through the live view a lot, and because it's an electric viewfinder, your exposures are completely accurate. What you see through the viewfinder is what you get. That was really big, because with the Nikon D850 you can make slight adjustments but you don't notice them through the eye-piece in real time. I said to myself "this is something I really need".

That in itself, was huge. It's been really helpful when shooting things like weddings as you want to have the correct exposure every time. The innovations in the camera are incredible. Also, it's such a light camera. Over a week of carrying the camera around in my backpack, I couldn't believe how light it was.

So, it was a no-brainer. I said to TJ: "I'm going to have to upgrade". The Nikon D850 had been everything I've ever needed but there were certain things with the mirrorless that I just can't go back from. It's really changed my experience.

I ended up purchasing a Nikon Z 6 and a Z 7, and I was using an adapter so that I could use my old lenses. But after some time, while the adapter worked great, the older lenses were heavier. And my shift to mirrorless was only a few months before the Z 6II and the Z 7II were released, but I still couldn't help myself and I upgraded the bodies again, and splashed out on all the lenses.

I have not looked back.
How does it feel to be a Nikon Creator?
I love it. It feels like I've taken another step forward with Nikon. It's a really big achievement and I never would have thought I'd be this tight with the company. It's a huge dream come true and feels like a bit of a lottery as there aren't many Nikon Creators.
Can you offer us three photography tips, whether for landscape or in general?
Number 1 is, if you want to get out of your comfort zone, is to leave your tripod at home and get creative with the placement of your camera: put it near the ground, put it on a branch or a rock for a new perspective. A lot of photographers get stuck using a tripod and a lot of their photos are at the same height and look the same as everybody else's.

Another tip is to use your live view. Don't stand at a waterfall and look through your viewfinder and try to come up with a composition. Flick on your live view LCD and move around with it. Same sort of thing as putting aside your tripod: get low, get into different angles. And if you discover a composition that is truly unique, then set up your tripod if you have to.

A third tip is to trust your camera's dynamic range. We use these high-end cameras and DSLRs to be able to push the dynamic range. Don't be afraid to protect your highlights and pull up your shadows, even if you think your shot is properly exposed.
You've been associated with Nikon School for a few years now. Has lecturing affected your craft or perspective on photography?
100%. You go out with all these different types of people, and I would have taught over 400 students by now. Students who have no background in professional photography often say things that make you go "oh, that's really interesting, I'm going to take that on board". So, there's a bit of exchange of knowledge even if you're the teacher.

That's the best thing about photography, you're always learning. And I've definitely learned a lot from my students to help me perfect that thing that I'm always chasing – which is trying to become better every day. Lecturing has been one of the best decisions in my professional career.
Your latest teaching endeavour takes place at Wildlife Wonders, can you tell us a bit about the project?
It's a three-hour workshop and we usually take on about 10 students at a time. It's an immersive experience that takes you through an environment with relocated animals. The site is a kind of free-range park, where animals are wherever they want to be. Lizzie will be able to articulate it better than me.

People know me for my landscape work, I only really share that kind of work. But when you're out walking paths or near big waterfalls, I love getting out my big 70-200mm and taking photos of wildlife in general. It's not necessarily something that I am going for, but I love to do it. It's really refreshing.

So, the way I approach Wildlife Wonders is similar to how it works when I just go out shooting by myself, it's just I have students that I can guide along the way. A lot of these students do take wildlife photos but they don't know how to construct a photo that isn't just a bird sitting on a branch. So, I help them learn how to capture wildlife more uniquely, in a way that has a little bit of a twist, perhaps using a leading line, or in a way of framing a subject, or even creating a foreground so that it leads up to say, a bird, or a koala.

In a sense, you're still capturing those classic shots but allowing students to discover how to take that shot in a way that's different to how their friend will capture it. And they've got a lot to work with, as there are all kinds of animals there – koalas, emus, kangaroos [thinks and laughs], and many more, but I'm having a mental blank so you can Google Wildlife Wonders to find out!
Luckily, there's no need to turn to Google, as Lizzie Corke, one of the main brains behind Wildlife Wonders, is here to pick up where Josh left off…Welcome Lizzie. Wildlife Wonders might be in its early stages but it's already attracting quite a buzz. Can you tell us more about it?
It is a really exciting project. It's certainly been a challenging time to open an ecotourism venture, but it'll be great once we come out the other side of this [pandemic situation].
Wildlife Wonders is a really special place. It was designed by an amazing man —Brian Massey— who was Greensmaster on The Lord of the Rings trilogy and an art director on The Hobbit. He was also the landscape designer of Hobbiton and he transformed that film set into a tourism attraction.
He's just incredibly talented at creating landscapes that evoke emotion. He's just amazing; one of those incredibly humble people. It's like he thinks that we all have these amazing skills, as he does. So, it's been really incredible working with him.
The Wildlife Wonders site, right on The Great Ocean Road, just outside Apollo Bay, is stunning. And while the edge of the site is overlooking the ocean, when inside, it feels like you're in the middle of the wilderness. It's really beautiful.
What we've done there is carefully create a predator-proof fence, which means that foxes and cats are excluded from the site. That means there's a chance for on-site animals to be readily seen and to live comfortable, free lives without the fear of predation by introduced foxes and cats. So, from a visitor perspective, you get the chance to see highly elusive animals that you just don't see out in the wild at all, like potoroos, Southern Brown Bandicoots, Eastern Bettongs, and of course, our two amazing emus.
One of the many things that's been fascinating about the site is seeing the enormous changes in these little ecosystems in which these animals can live freely without the intrusion of foxes and cats. The soil is being turned over like you wouldn't imagine. It's amazing, so we're really interested to see how the site continues to change and how the different plants continue to germinate, with those proper ecosystem functions having been restored.
For those who aren't very wildlife-minded, what is it about foxes and cats in uncontrolled ecosystems that prohibit this kind of flourishing?
They're just incredibly destructive. Both foxes and cats are amazing animals and incredibly well-adapted as high-order predators. But many of Australian mammals are in what's called the 'critical weight range' – so little football-sized animals that are also the perfect size for fox and cat dinners. Out in the wild, these mammals are incredibly vulnerable.
So, you've got this curated ecosystem in Wildlife Wonders. Is the idea that young people can come and visit an environment that they'd never get to experience?
That's right. Though, in terms of the age range, it's incredibly diverse. The path that Brian has created is wheelchair and pram-friendly – which makes this beautiful ecosystem available to everyone. Many visitors bring along lots of small children, but there are those that may be older but are in wheelchairs or on crutches and are less mobile generally. We accommodate the best of all worlds.
What is the locational significance of The Great Ocean Road and Apollo Bay?
I'll answer this from two points of view: why I've chosen to base my life in this region and why we chose the site for Wildlife Wonders.
To me, it's just the most beautiful place in the world, boasting such a diverse range of ecosystems. Within five minutes of a stunning coastline, you can be in the deepest of rainforests. It's just spectacular. And then, there's the incredible local community, which is a great place to raise a family within. Everybody knows everybody and all are incredibly supportive. It's a magical place to live.
Why did we choose just outside Apollo Bay as the site for Wildlife Wonders? Because the region of The Great Ocean Road has high visitation, COVID notwithstanding. Each year, the area attracts more than twice the visitation of Uluru and The Great Barrier Reef combined. It's epic.
But one of the challenges that come with that visitation is that to date, not many people have stayed very long, nor spent much money. They travel through the place very quickly without really connecting with it. It's not a great experience for the visitors and it's not a great experience for the community.
So, a project like Wildlife Wonders, which has an average dwell time of 90 minutes to two hours, really changes that whole dynamic and we think it can play a key role in changing the experience for everybody. And because 100% of the profits go to conservation, it strengthens that ongoing cycle of improving the region as a place to live, work and visit.
If people wanted to get involved in some way, whether through donation or volunteering, what can they do?
All of the above! Donations are always incredibly helpful. Whether that's a one-off donation to a particular project or even better, regular monthly donations which allow us to plan ahead. We're hugely appreciative of both as they make all the difference.
Volunteering is also wonderful. We have a team of volunteers that help us on a regular basis at Wildlife Wonders (we call them the Wondersmiths), but we also have a number of volunteer annual events, such as The Big Otway Tree Plant, where 100-odd volunteers come and help us restore the woodlands at Cape Otway, which is a critical koala habitat.
In other words, there is a range of ways to get involved.
What do you foresee as the future of conservation?
We have an awful lot to do. The world is starting to recognise the importance of conservation. Over the last 12 months, with COVID, we've really come to understand how very much we need green spaces and fresh air, but also how much we need healthy ecosystems because when we don't have that, dreadful things happen.
I think also over the past year, the global response to climate change is starting to take a turn. While we're way behind on all of that, some big global superpowers are realising that we really need to do something about it.
So, a lot of work to be done, but I think we're starting to move in the right direction.
Check out Josh's website here, his Instagram here, and his Nikon Creator bio here.
Explore or plan a trip to Wildlife Wonders here, and learn more about its inception here.
Find out more about the CEC here and how you can get involved here.
Join Josh Beames at Wildlife Wonders on May 29 for a beginner Nikon School workshop and capture the beauty of Australian flora and fauna.
Date: Sunday, May 29, 2022
Time: 1:30-4:30pm AEST